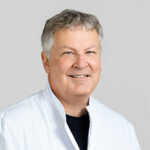 As first arrow, (or ice axe !) of next LHD2023,  we wanted to focus on one of our faculties, obviously and necessarily a Swiss one (and not the least) : Pr Martin Beck from Luzern.
This 3rd LausanneHipDay has the ambition to embrace all current knowledge on shortened femoral stems : that means prosthesis and so, to be complete, that means implant register.
One of these registers celebrated his 10th birthday in 2022 : the Swiss implant register (SIRIS), of which Pr Martin Beck is the head of the scientific advisory board.
We are therefore very pleased to welcome Pr Beck who was working for 14 years with Pr Ganz in Bern, and now operating in his birthplace, Luzern in OKL.
He has released and published many studies about hip anatomy, hip conservative treatment, hip impingement, periacetabular osteotomies, hip arthroplasty and so more…
He will present the Swiss register and the results of shortenened stems implanted in Swiss and other international registers.