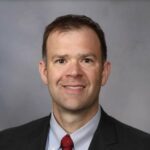 We are very pleased to welcome anew Michael J. Taunton, from Mayo Clinic (Rochester, USA) for LHD2023 : after Saint Louis University School of Medicine, and fellowship in Orthocarolina, he joined world famous Mayo Clinic in Rochester. He received the John Charnley Award for a study about randomized clinical trial comparing direct anterior approach and mini-posterior approarch in Total Hip Arthroplasty , and the Otto Aufranc Award for a study about Dual-Mobility Constructs in Revision THA. 
Concerning only hip surgery, he has released and published many studies about hip direct anterior approach, hip arthroplasty, especially dual mobility, has contributed to creation of a dislocation risk score, and so more…
He will first present us the the Mayo Conservative Hip System (back to the 80s) and then will talk about the possible learning curve from conventional to shortened femoral stem.